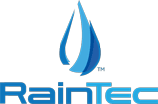 ---
| | | |
| --- | --- | --- |
| End Guns for Pivots -- Sime | | |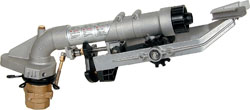 Wing
640100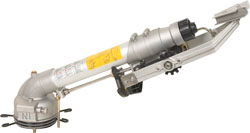 Reflex
640150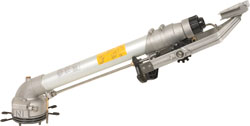 Explorer
640200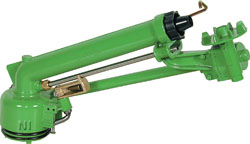 Skipper
64075
Sime Pivot End Guns
NI Part #
Description
PSI
Flow Rate
In gpm
Dia.
ft.
640100
Wing End Gun, 18°, w/ Nozzle
29-100
34-252
144-341
640150
Reflex End Gun, 24°, w/ Nozzle
44-100
193-505
274-434
640200
Explorer End Gun, 24°, w/ Nozzle
44-115
257-745
314-510
64075
Skipper End Gun, w/ Nozzle
29-70
42-163
144-268
Sime Wing
Outstanding Features and Benefits
. Bottom bearing assembly is supported by bronze bearings with stainless steel balls providing excellent life.
. Drive arm stroke can be easily adjusted.
. Directional spoons are smooth to eliminate possible blockage.
. Adjustable stops - no tools required.
. Low pressure applications.
. Excellent uniformity.
. Full or part circle applications.
. 2" NPT base.
. 18º Trajectory.
. Slow reverse.

Sime Wing
Nozzle
Performance Data
Size
Inch

PSI

Dia. Ft.

GPM

12

0.47

29

144

33.5

44

167.2

40.9

56

190

47.3

70

210

53.3

85

226

58.4

14

0.55

29

157.4

45.9

44

190

56

56

210

64.7

70

232

72.4

85

246

79.2

16

0.63

29

164

59.7

44

200

72.9

56

226

84.5

70

246

94

85

262

103.3

18

0.71

29

174

75.5

44

210

92.4

56

239.4

106.7

70

262

119.4

85

282

130.7

20

0.78

56

246

132.3

70

269

147.9

85

292

161.9

100

301.8

174.6

22

0.86

44

222

137.9

56

259.2

159.5

70

285.4

178.6

85

311.6

195.7

100

328

211

24

0.95

44

229.6

164.6

56

265.6

190.2

70

298

212.9

85

324

233

100

341.2

251.5
Skipper Features
• Adjustable jet breaker, provides a uniform water pattern throughout.
• Changeable spinner drive wheels for different speeds.
• 1-1/2" NPT mount connection.
• Adjustable stops, no tools required.
• Full or part circle.
• Slow reverse.
• Low pressure applications
• Low flow applications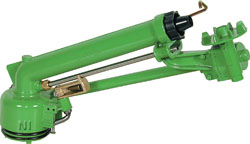 Skipper
64075